Courses available
We deliver a range of food and criminal investigations training courses for small groups in our Executive Box in the South Stand at Norwich City Football Club. The cost of the training includes:
Lunch and refreshments
Comprehensive training notes
CPD certificates
Free on-site parking
Please note that we no longer offer training courses at locations around the UK.
Autumn/Winter 2017 Programme
Food Hygiene
Food Science and technology
Criminal Investigations
---
Online Training for Local Authorities
An annual subscription to our online training service costs just £125 + vat per user. More details are available in our brochure.
Online courses currently available include:
Approved establishments
Food law refresher
Food Hygiene Enforcement
Investigation of food poisoning outbreaks Training
Food Law Code of Practice
Audit of HACCP Systems
Intervention Risk Rating
Dairy Products
Food Allergen Management
Sous vide and vacuum packing
E.coli O157 Control of cross contamination
Interviewing suspects
Witness statements
RIPA
Guide to Health and Safety Regulation
Work related deaths and inquests
Introduction to the Food Information Regulations
Food additives, enzymes and flavourings
Claims made about foods
Sampling of animal feed.
Labelling of animal feed.
Introduction to imported food control.
Purchase a single annual subscriptionPurchase group subscription
All of the courses are modular in nature and, on completion, you can download a CPD certificate. For further information, please contact us.
---
Live Webinars
We are delighted to announce the launch of our new regular live webinar service!
What are live webinars?
Webinars are short courses, normally of approximately 1 hour duration, which are "broadcast" over the internet. Because they are delivered in real time, attendees have the ability to "chat" with the presenter, asking questions to clarify any issues as they arise.
How do they work?
The webinars are scheduled in advance and attendees register to attend. Once registered, attendees are sent joining instructions for the webinar. After the webinar all attendees are sent a CPD certificate.
What topics are included?
Current scheduled webinars include: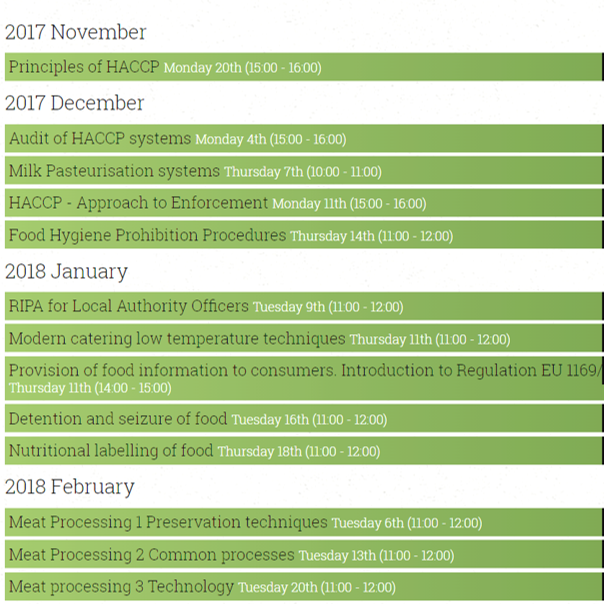 How to attend a webinar
You can access our webinars via one of two routes:
Online booking: You can book onto any scheduled webinar by clicking on the links above. The typical cost is £30 + vat per webinar.
Via ABC Online PLus: If you are a current subscriber to our online training service then you will be automatically upgraded to "ABC Online Plus" which gives you free access to all of the scheduled webinars as part of your subscription. Simply login and register for any webinars that are available in the "webinars" menu.
Click here to subscribe to ABC Online Plus
Bespoke webinars
Contact us if you would like us to provide a bespoke webinar for your food team, food group or employees
What equipment is needed to attend a webinar?
Our webinars can be accessed via all of the major internet browsers (Internet Explorer, Safari. Firefox etc) as well as through mobile devices (i-pads/i-phones, andoid devices). Technical support is available through our webinar hosting service.
---
Training for businesses
We are running a series of one day seminars in Norwich which will be of interest to food manufacturers. Topics include:
Product Specific
Legal Brew - food law for brewers
Food Law
A comprehensive guide to food law
Food labelling
A practical guide to the Nutritional Labelling of food
Making legal claims about food
Food science
Understanding food microbiology for manufacturers
Getting to grips with food science for manufacturers
Food management
Practical HACCP for manufacturers
---
Accredited Courses
We are a HABC accredited centre for the provision of level 2, 3 and 4 training in food hygiene and HACCP. Our courses are delivered to small groups at our offices at the Norwich Research Park. Please click on the following links for further information:
Hygiene Courses for hospitality and catering
Level 2 Food Safety in Catering

Level 3 Supervising Food Safety in Catering
Level 4 Managing Food Safety in Catering
Hygiene courses for food manufacturing
Level 4 Food Safety Management for Manufacturing
---
Training for researchers
We can provide a range of technical seminars on food law related topics to help those engaged in food research appreciate the legal application of their work.