Latest News
24 October 2017
New live webinars
We are delighted to announce the launch of our new regular live webinar service!
What are live webinars?
Webinars are short courses, normally of approximately 1 hour duration, which are "broadcast" over the internet. Because they are delivered in real time, attendees have the ability to "chat" with the presenter, asking questions to clarify any issues as they arise.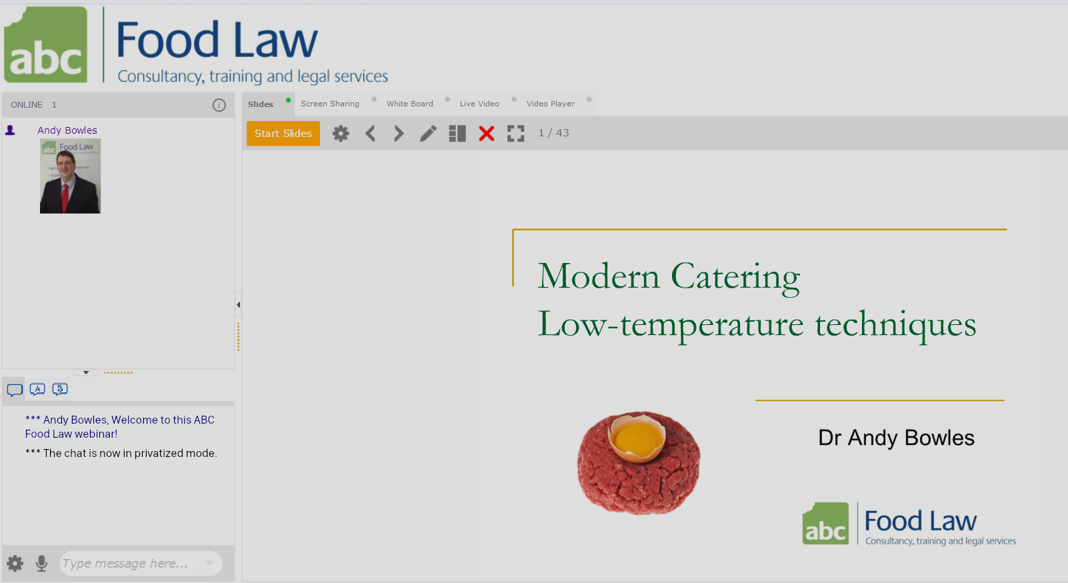 How do they work?
The webinars are scheduled in advance and attendees register to attend. Once registered, attendees are sent joining instructions for the webinar. After the webinar all attendees are sent a CPD certificate.
What topics are included?
We will be scheduling webinars, all hosted by Dr Andy Bowles, on a range of topics including:
HACCP
Approved establishments
Food labelling
Food law enforcement
Food technology
Food law
Criminal investigations and more...
What equipment is needed to attend a webinar?
Our webinars can be accessed via all of the major internet browsers (Internet Explorer, Safari. Firefox etc) as well as through mobile devices (i-pads/i-phones, andoid devices). Technical support is available through our webinar hosting service.
How to attend a webinar
You can access our webinars via one of two routes:
Online booking: You can book onto any scheduled webinar by clicking here. The typical cost is £30 + vat per webinar.
Via ABC Online PLus: If you are a current subscriber to our online training service then you will be automatically upgraded to "ABC Online Plus" which gives you free access to all of the scheduled webinars as part of your subscription. Simply login and register for any webinars that are available in the "webinars" menu.
Click here to subscribe to ABC Online Plus
Bespoke webinars
Contact us if you would like us to provide a bespoke webinar for your food team, food group or employees
‹ Back Other News ›