Training for local authorities
We regularly run technical CPD courses for Environmental Health, Port Health and Trading Standards staff in a range of food law, food technology, food science and criminal investigation topics. Courses are delivered at Norwich City Football Club which has ample free parking and is a few minutes walk from Norwich station. See below for details of our Spring 2017 programme.
Please note that there are no plans to run any more courses on behalf of the Food Standards Agency in 2017/18.
ABC Food Law courses available
We deliver a range of food and criminal investigations training courses for small groups in our Executive Box in the South Stand at Norwich City Football Club. The cost of the training includes:
Lunch and refreshments
Comprehensive training notes
CPD certificates
Free on-site parking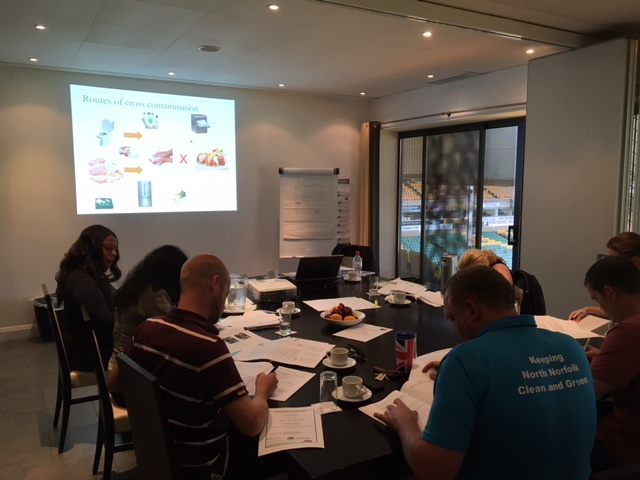 Spring 2017 Programme
Food Hygiene
Advanced Approved Establishments
Food Hygiene Enforcement Sanctions
Return to Work Food Law Refresher
Safe Production of Beef Burgers
Food Science and technology
Inspection of dairy establishments
Criminal Investigations
Evidence Gathering and Investigation Skills (3 Day)
Online Training for Local Authorities
An annual subscription to our online training service costs just £125 + vat per user. Click here to download a brochure.
Online courses currently available include:
Approved establishments
Food law refresher
Food Hygiene Enforcement
Investigation of food poisoning outbreaks
Food Law Code of Practice
Audit of HACCP Systems
Intervention Risk Rating
Dairy Products
Food Allergen Management
Sous vide and vacuum packing
E.coli O157 Control of cross contamination
Interviewing suspects
Witness statements
RIPA
Guide to Health and Safety Regulation
Work related deaths and inquests
Introduction to the Food Information Regulations
Food additives, enzymes and flavourings
Claims made about foods
Sampling of animal feed.
Labelling of animal feed.
Click here to purchase a single annual subscription.
Click here to purchase group subscriptions.
All of the courses are modular in nature and, on completion, you can download a CPD certificate.
For further information, please contact us or call 01603 274486.